In discussion after the board meeting two days later, the board and club members came to the decision, that we should look into investing for a sun-telescope in prospect of the new solar cycle ahead of us.
The most reasonable purchase seems to be a sun telescope that is affordable, but yet offers more than the minumum for solar observation.
While telescopes start around 800 EURO, they offer a too broad bandwidth, resulting in less details and contrast as OTHER light strays in to the scene.
It was mentioned that a bandwidth of 1 Anström (Å) was too much and we shall strive for <0.5 Å.
As a result, this is the only "affordable" scope: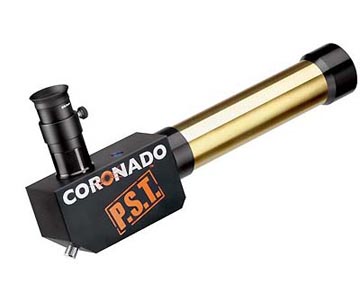 Specifications
Coronado ST 40/400 PST Personal Solar Telescope (H-Alpha)
Aperture: 40mm
Eye piece: 20mm Keller (1.25″)
Bandwidth: <0.5Å
Price: 1490 €
Offered:
The budget has been requested to the SAC-SAS at EUMETSAT for support in funding.
However, if the support will be less than the planned expenditure, it was also mentioned that there was a high motivation for private support.
Carsten